Watch Out for the Best: Men's Timepiece Gift Ideas in 2023
November 25th, 2023
As the holiday season approaches, the joy of gift-giving takes center stage, and what better way to surprise the special man in your life than with a timepiece that he may not have picked out for himself? At Hing Wa Lee Jewelers, we believe that the perfect watch is not just a reflection of style but also a cherished memory that can last a lifetime. Our curated holiday gift guide for men's watches is designed to help you find that unique timepiece that will leave him both delighted and astounded. Discover a selection of horological wonders that combine precision, craftsmanship, and distinctive design – the kind of watch he may not have thought to select on his own but will treasure forever. Join us on this journey through time as we unveil the perfect gift for the holiday season.
Hamilton Ventura Elvis80
Timepieces are not just about telling time; it's also about making a statement. Choosing a timepiece with a unique and head-turning case can be a fantastic way to express your individual style. This striking Hamilton Ventura Elvis80 watch, with its distinctive triangular case, exemplifies this notion perfectly. Its design pays homage to the iconic timepiece worn by Elvis Presley in the 1961 movie "Blue Hawaii." The sharp lines and unconventional shape of the case not only set it apart from the ordinary but also make it a conversation starter.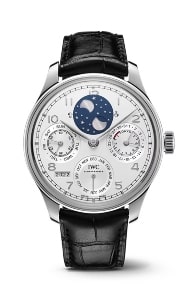 IWC Portugieser
Gifting a watch with a captivating complication can be an exceptional choice. It not only adds a touch of sophistication but also showcases your thoughtfulness. This IWC Portugieser watch, with its moon phase complication, is a prime example of horological elegance. What makes it truly extraordinary is that it doesn't stop at a moon phase – it also boasts date, month, day, and year complications. This timeless piece merges aesthetics and functionality, making it a gift that goes beyond the ordinary. When you gift a watch with such intricate complications, you're not just giving a timepiece; you're giving a piece of art that will be cherished for years to come, like the IWC Portugieser watch.
Rado True Square
For the watch aficionado in your life, a skeleton dial watch gives your loved one a window into the mesmerizing world of horology. This exquisite Rado True Square watch, with its square-shaped skeleton dial, is a work of art that not only tells time but allows one to witness the intricate dance of gears, springs, and wheels that power a mechanical masterpiece. It's a gift that embodies both elegance and innovation, offering a glimpse into the inner workings of precise craftsmanship. With every glance at their wrist, your loved one will not only be reminded of your thoughtful gesture but will also be captivated by the mesmerizing beauty of time itself. Skeleton dial watches are an extraordinary gift for someone who appreciates both form and function in their timepiece.
TAG Heuer Connected
When shopping for a watch to suit the man in your life who is always on the cusp of the latest and greatest, consider an innovative timepiece that will surely make him swoon. This TAG Heuer Connected watch is the epitome of modern sophistication. This watch seamlessly blends cutting-edge technology with classic watchmaking, offering a striking fusion of style and functionality. With its sleek design, high-resolution AMOLED screen, and advanced features like fitness tracking and smart notifications, it serves a wearable companion that keeps up with the fast-paced demands of modern life.
Find a Watch for Him at Hing Wa Lee Jewelers
At Hing Wa Lee Jewelers, we understand that finding the perfect watch gift for him is a unique and cherished experience, as well as one to be done carefully and with ample consideration. Our San Gabriel and Walnut jewelry stores offer an exquisite collection of timepieces that cater to every style and taste. Our experienced team is here to assist you in making a choice that will not only impress but also become a timeless treasure. Whether you're seeking classic elegance, modern innovation, or anything in between, our curated selection of luxury watches is designed to inspire and delight. Visit us today to explore the world of exceptional timepieces and schedule an appointment with our experts who are eager to assist you in finding the ideal watch gift for the special man in your life.