Find the Right Watch Metal Type
August 25th, 2022
The value of a luxury timepiece is determined by a number of things, including the type of metal it is forged in. From the brilliant machinery that makes them tick to the case that protects it, metal means everything in a luxury watch. Watchmakers have been creating these marvelous pieces in all sorts of materials. Be it elegant stainless steel or spectacular rose gold, there's no end to the options available. Find the precious metal for your watch that fits your aesthetic and lifestyle with Hing Wa Lee Jewelers.
Stainless Steel: Chic and Robust
Arguably the most common watch case material, stainless steel is strong, sleek, and stunning. This alloy is a combination of iron and corrosion-resistant metals, ensuring a highly practical timepiece. Both fashion-forward and outdoors-oriented pieces use stainless steel. With its standard silver color, stainless steel is aesthetically versatile. Note that many timepieces use other elements to change the material's color; some even make it look akin to gold, as steel is much less expensive.
This Hamilton Jazzmaster Viewmatic Auto is a sophisticated piece suitable for everyday use. The dial, band, and case are all made of stainless steel and exhibit a marvelous aesthetic with easy-to-read time telling. It also has a date and central second-hand for a dash of practicality. Effortlessly stylish and sharp, it will pair well with most any ensemble.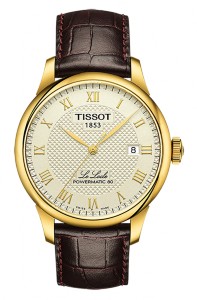 Yellow Gold: Glamorous and Luxurious
There is nothing more glamorous than gold. Adored for its spectacular beauty for millenia, it's human nature to love gold. That's why designer brands have been making fine yellow gold watches for centuries. It's classic, gorgeous, and exhilarating. In spite of its enchanting aesthetic, yellow gold is soft and delicate. Athletes and outdoor enthusiasts probably should not sport a gold watch, as they scratch and corrode easily.
For an excellent and elegant yellow gold timepiece, look no further than this Tissot T-Classic Le Locle. It combines the rich color of brown alligator leather with warm yellow gold for a mesmerizingly chic appearance.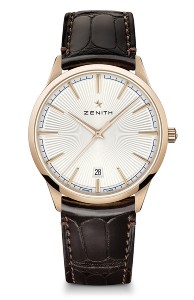 Rose Gold: Bold and Brilliant
For people who want something that makes a statement, there's nothing more appropriate than rose gold. Its pink hue is derived from the addition of copper to yellow gold. It pairs well with light colors, which is why many rose gold timepieces also feature sparkling diamonds. While rose gold is traditionally associated with feminine looks, it looks fantastic when used in slender and minimalist pieces. The rose gold evokes a radiant glamor that goes a long way.
This Zenith Elite Classic features 18k rose gold and brown alligator leather. The minimalist dial is bright and inviting. With its simplistic but flashy design, it's meant to be worn with a high-end suit.
Carbon Fiber: Strong and Stunning
This rare material is a miracle of science. Stronger and lighter than steel, carbon fiber is highly desired by athletes, outdoor enthusiasts, and handypeople. Carbon fiber is naturally black and sleek, and due to the advanced technology required to create it, timepieces that use this material tend to be more expensive. However, for an outdoor adventure companion, carbon fiber watches can't be beaten.
For added durability, combine the strength of carbon fiber with a high-quality rubber strap. Not only is it impossibly durable, but it also has a chronograph, date, and two small second hands. With glow-in-the-dark hands, it's a staple for campers and hikers alike.
Discover Every Type of Metal in a Watch from Hing Wa Lee
Hing Wa Lee Jewelers is California's premier source for luxury timepieces. Whether you are searching for delightful rose gold and diamond timepieces or hardy carbon fiber toolset watches, you can find them all at our San Gabriel and Walnut showrooms.
Our decades of experience with fine watches lets us guarantee peerless custom service. Call our Walnut store at (909) 831-8888 and our San Gabriel shop at (626) 456-2222 to learn more, and request an appointment for a personalized meeting.