Watch Gift Guide for Men: This Is What He Wants for the Holidays
November 15th, 2021
While many men cherish necklaces, rings, and bracelets, watches tend to take the top spot on many wishlists. The hard part is narrowing down his specific taste and finding something that matches his palette and mood. In this gift guide, we have selected a range of styles to choose from so you can be sure to find a suitable gift for the special man in your life.
Dress Watch
Dress watches add class and refinement to any outfit. An elegant dress watch is invaluable to any man's timepiece collection. These are pieces that dazzle and inspire awe and envy. Dress watches often come outfitted with leather straps or precious metals to complete your fashionable ensemble. These understated pieces elevate your look and, when styled well, will blend seamlessly into your outfit.
The Vacheron Constantin Traditionnelle watch features a case and hands dripping in 18k pink gold. The beige dial accentuates the watch case, which is secured by a luxurious alligator leather band.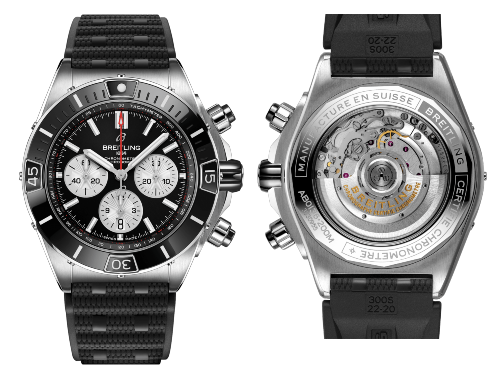 Sports Watch
Sports watches can endure high-activity lifestyles while retaining their precision and refinement. A sports watch is the perfect accessory for mountain lovers, beachgoers, and trailblazers of every caliber. Many come with enhanced mechanisms for increased accuracy.
Breitling is a world leader in sports watches as one of the avant-garde designers of the chronograph. Check out this Breitling Super Chronomat B01 44 with mechanical movement featuring a glare-proof sapphire crystal. Choose from black rubber or stainless steel straps to compliment the polished metal design.
Vintage Watch
A vintage watch offers unique designs that only become harder to find with time. Therefore they are often sought after and coveted as a necessary piece for any watch lover. Vintage watches encompass a broad category, but they all share a rich history evident in their design. Vintage watch aficionados highly desire Swiss and Japanese watches, but several countries are well-known for their retro timepieces, including France, Germany, and Russia.
This 1945 Girard-Perregaux Vintage watch with an alligator band and visible mechanics behind the smokey grey skeleton dial shows the beauty of generations of experience. Girard-Perregaux is one of the oldest fine watchmakers in Switzerland still in business today.
Skeleton Watch
A skeleton watch is a high-class accessory that reveals the watch's inner workings through the watch case. Looking at one is like peering into the refined imagination of a master watchmaker. It is a mesmerizing work of sophistication and craftsmanship. You don't have to know a thing about watches to appreciate a skeleton watch. They are eye-catching accessories guaranteed to make a statement with any ensemble. This Ulysse Nardin Skeleton X Watch features a Tantalum case, polished bezel, and leather band for an undeniable feeling of luxury.
Shop Hing Wa Lee Jewelers This Holiday Season for a True Taste of Refinement
Hing Wa Lee Jewelers is committed to offering the nation's finest selection of designer timepieces and fashion accessories. Our proud heritage of customer service has helped our jewelry store gain renown from coast to coast. Visit one of our San Gabriel or Walnut jewelry stores, and let our team of experts guide you towards elegant pieces that will complete your shopping list.