The Hing Wa Lee Rolex Experience
OUR HISTORY
Established over 50 years ago, Hing Wa Lee Jewelers was founded in Hong Kong by Mr. Hing Wa Lee in 1965. He was named as one of the great modern day masters of gemstone carving and became a lifetime honorary Chairman of the Hong Kong Carving Association. After recognizing the opportunity to serve the Chinese-Amercian community, the operation was moved to Maryland in the USA in the 70's. A decade later, Hing Wa Lee jewelers found their permanent home in the San Gabriel Valley, outside Los Angeles in Southern California. In 1992, Hing Wa Lee's oldest grandson, David Lee, joined the family business and adapted the business model. Hing Wa Lee Jewelers proudly became an Official Rolex Jeweler in 1995, showcasing Rolex collections and models for men and women, as well as offering Rolex watch servicing for the San Gabriel Valley community. Just two years later in 1997, Hing Wa Lee Jewelers opened their second store in Rowland Heights in Los Angeles County, with another Rolex showroom, allowing their Rolex collection to expand and offer the most popular and latest models, along with the ultimate Rolex experience. The store was relocated in 2004 to the newly built Hing Wa Lee Plaza in Walnut California, occupying over 11,000 square feet of showroom and with a vast selection of Rolex timepieces, including the Rolex Day-Date, Sea-Dweller, Sky Dweller, Submariner, Yacht-Master Collections and more.
A CONTEMPORARY LUXURY EXPERIENCE
Hing Wa Lee Jewelers Walnut and San Gabriel Rolex showrooms are designed with contemporary, European inspired décor. The San Gabriel store worked with a handful of designers and histories before being finalized and receiving the Bell Award for its outstanding architectural design. "We pledge to uphold the highest standards in every arena, from services to ambiance to customer experience. We pride ourselves on the leading edge to create one-of-the-kind experience for our Rolex customers." David Lee - CEO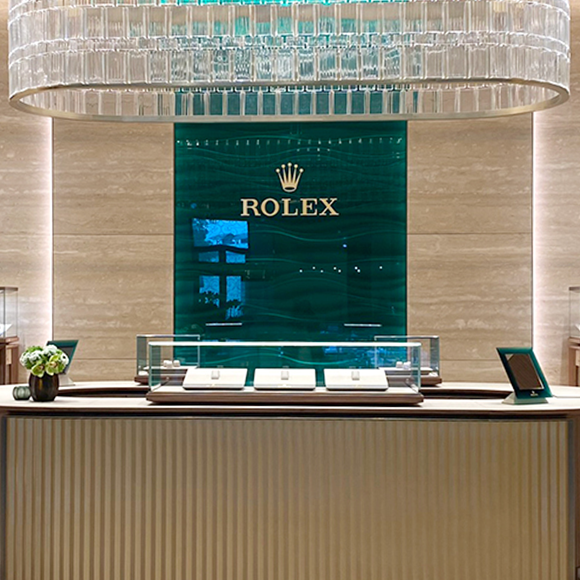 THE IMPRESSIVE BOUTIQUE
The boutique offers an impressive setting for visitors to discover a wide variety of Rolex timepieces. The self-winding, mechanical Oyster Perpetual models form the pillar of a collection of legendary timepieces that combine tradition, prestige and technology, along with precision, peerless reliability and style, suited to every occasion. Offering mens and womens models from the classic and new collections, Hing Wa Lee Jewelers delivers the utmost service and luxury Rolex experience.